Course Contents
---
This course is offered fully online via a world-class online learner management system. Learn at your leisure and at your own pace.
Course Contents Includes:
- History
- Physiological Systems Overview
- Properties of Water
- Effect of Baby Spa Sessions on Infant Physiology
- Benefits of Baby Spa sessions
- Infant Development Overview
- Infant Behavioural States & Session Programming
- Infant Sensory Profiles & Session Programming
- Baby Spa Session Flow
- Baby Spa Hygiene Practices
- Baby Spa Equipment Requirements
- Maintenance of Water Quality
- Vital Baby Spa Systems
- Baby Spa Facility Requirements
- The Baby Spa Business
- Branding & Marketing AND MORE...
All the Information will be supplied in the form of Virtual Lessons. Virtual Lessons will include:
- embedded quizzes,
- videos & imagery from real baby spa sessions to build your confidence & aid learning retention.
Assessments in the form of Online Quizzes will need to be completed successfully in order to be deemed competent in the course & receive your digital certificate.
---
Ts & Cs
---
- This course is aimed at individuals wanting to open baby spa's outside of South Africa.
- A limited amount of applicants will be allowed onto the course in South Africa. Baby Bubble reserves the right to deny an application onto the course.
- Course duration is four (4) months in which to complete the course after which the course page and it's contents will be locked. Course extension can be applied for at a minimal cost which will be applicable for no longer than an additional month.
- No refunds will be provided once the course content has been accessed.
- All images & videos remain the property of Baby Bubble & are not for use of other providers. The course contents remains the intellectual property of Baby Bubble.
- This course is not available to those intending to franchise in South Africa.
- Restrictions of trade will apply to clients wanting to open in provinces and or areas close to our existing facilities as to protect our own business interests.
- This course is not available for existing baby spa franchises inside or outside of South Africa
- The course does not include the infant massage component as not to breach into their intellectual property. We recommend performing the massage component through IAIM (International Association of Infant Massage).
- In our South African branch we also offer baby swimming. This has not been included in the course.
-HFPA houses the Online Learning Platform. Technical support will be offered by their team whereas online tutoring will be offered by Baby Bubble. HFPA will process your login details and has their own standard set of Ts & Cs upon accessing your course.
---
Course Layout Sneak Peek
---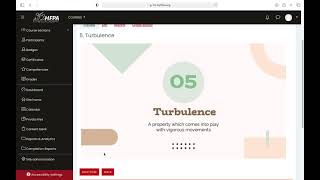 ---
Requirements
---
-The course is presented in English.
-No experience is required for this course however some background in physiology is recommended (but not mandatory). We do recommend that if you have no background in physiology &/or child development to consider recruiting a staff member who is a qualified Pediatric Physiotherapist/Occupational Therapist/Nurse but yet again, the course has been structured to ensure that you are well equipped regardless.
You will need the following resources to complete the course:
1. Laptop / PC with speakers / Smart Phone
2. Stable Internet Connection
3. Internet Browser
4. PDF. viewing software
---
Join the Global Baby Spa Boom
---
The Baby Spa boom has only started taking off now, it is therefore a fantastic opportunity to get established in this market!
The problem however is that there is no training available and those wanting to open a Baby Spa is left without many options. No information is available online to research the skillset or know-how required.
Franchises are extremely expensive, reducing the opportunities for those wanting to become their own boss and open a baby spa.
Baby Bubble serves to provide you with all the information needed to understand the theory behind baby hydrotherapy, the flow of baby spa sessions, the do's & the don't's as well as the how's. We leave no stone unturned to ensure both the quality of the industry is maintained with this boom and that your business is viable as well as successful without paying the additonal 'school fees' to learn your way around opening a baby spa at less than 1% cost of what a Franchise would have costed you.
To our knowledge this is the only course of it's kind in the world offered via an online learning platform at this incredible fee!
---
Fees
---
Course access will be granted upon upfront payment. Email us at babybubbleza@gmail.com for pricing.
---
---